Joshua Boord
Journeyman Electrician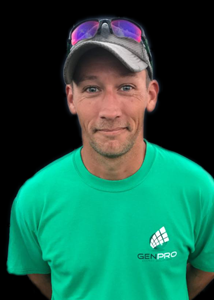 Joshua was born in Aurora, Nebraska and moved to Grand Island, Nebraska where he was raised and currently resides.  Josh came to GenPro in 2018 with 19 years of experience in electrical work. He has 4 years of experience as a Journeyman Electrician, with a background in working on commerical, and residential building with industrial and substation work.  His interest in solar energy brought him to our team.
Josh finds the most rewarding part about working for GenPro is the travel and the people he works with. He has gained new and exciting opportunities while making new friends on the job.
During his spare time, you can find Josh riding his motorcycle and traveling.  His interests include motorcycles, golfing, hunting, fishing and anything that includes being outdoors.