PS600 HR-03 Submersible Centrifugal Solar Pump System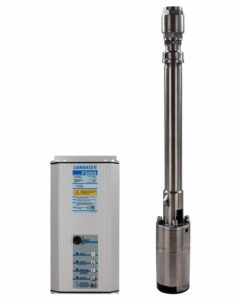 The LORENTZ PS600 series controller operates the ECDRIVE-600 motor for up to 700W of pumping power. Having seven models of HR-series and two models of C-series submersible pump ends to choose from, for performance up to 600ft TDH or up to 51 GPM, this series fits a wide range of applications.
The HR series pump end is a progressive-cavity type pump. It uses a helical rotor to push small pockets of water through the pump end at high speed. Various models to choose from allow optimization for the head pressure or flow rate required.
Features
Engineered in Germany
Water temperature specific variants to provide the most efficient outputs
High quality non corrodible materials used throughout
Cast stainless steel components
Solar direct optimized controller at surface
MPPT technology to optimize performance in changing solar conditions
ECDRIVE DC brushless motors with over 90% efficiency
Incorporated data logging technology
Optional AC power supply converter
Specifications
Head Pressure:

 

200 – 400 Ft. (87 – 173 PSI)

Minimum Well Casing Diameter:

 

4″

Pump Type:

 

Progressive Cavity
Features
Engineered in Germany
Water temperature specific variants to provide the most efficient outputs
High quality non corrodible materials used throughout
Cast stainless steel components
Solar direct optimized controller at surface
MPPT technology to optimize performance in changing solar conditions
ECDRIVE DC brushless motors with over 90% efficiency
Incorporated data logging technology
Optional AC power supply converter
Specifications
Head Pressure:

 

200 – 400 Ft. (87 – 173 PSI)

Minimum Well Casing Diameter:

 

4″

Pump Type:

 

Progressive Cavity