Ryan Usera
Residential Solar Sales Manager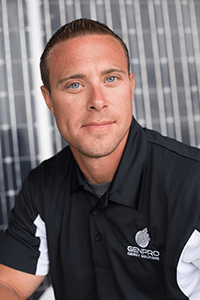 Ryan was born in Hettinger, North Dakota. He previously worked for H/N Electric and Black Hills Energy.
Ryan has been with GenPro since April 2012, and during that time has acquired experience as an electrician and a sales representative. This combination of knowledge, skills, and abilities – both in the field and in the office – have positioned Ryan to be the perfect fit for this position.
He finds that the most exciting part of his job is meeting new people and introducing energy efficient solutions to fit a customer's needs. Ryan believes that alternative energies that will power the economy, create good paying jobs, and reduce greenhouse gas pollution are the future of this generation. He has two children that are his life and he loves them dearly. He enjoys hiking in the Black Hills, coaching youth soccer, spending time with his children, and weightlifting. His secret talent is creating "surprisingly good" art.
Interested in learning more about solar energy for your home? Take a look at our residential options and fill out the contact form and Ryan will get in touch!