Tim Teeslink
Energy Applications Manager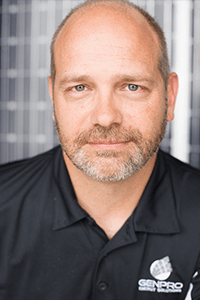 Timothy Teeslink has been with GenPro Energy Solutions since 2009 and holds SEI and ASES certifications since onboarding with GenPro. Tim received his NABCEP certification in solar design in 2013. Tim has designed hundreds of solar energy system projects, ranging from small off grid systems to large community solar projects. Tim officially became an apprentice electrician in 2017, which allows him to take part in commissioning the solar systems he designs.
Tim has also worked for GenPro Energy Solutions as one of the lighting specialists, working with government programs and affiliates to convert old technology to new energy efficient technology, this has helped his clients further save money by implementing state-of-the-art tools and LED products.
Prior to GenPro, Tim worked at Westwood Professional Services acquiring land for large commercial wind farms. He also worked at a mortgage company as a senior loan officer. Tim currently finds that the most exciting part of his job is that it's never the same, there are always new projects and challenges. Tim believes that renewable energy will continue to be a larger segment of our energy mix going forward. In the next 20 years, he hypothesizes that more than half of the energy generated by the USA will be produced by renewables.
Tim was born in Rapid City, South Dakota. Tim has resided in the Black Hills most of his life and keeps busy with his wife, pets and five children. His favorite Black Hills activities are to simply be outdoors with his family along with hunting, fishing, hiking and biking.