Zenith ZTG-SE Service Entrance Rated ATS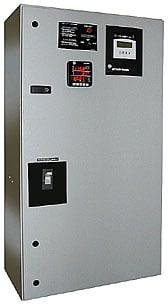 The new Model SE expands the time-tested Series ZTG platform to serve more applications than ever before.
While providing the functionality of an automatic transfer switch, the ZTG-SE integrates the utility main disconnect, optional transient voltage surge suppression, and power monitoring into one simple coordinated package.
The ZTG-SE provides greater protection to critical loads against utility power outages and transient voltage disturbances. This delivers more piece of mind to facility managers and business owners in a wide range of industries, such as water/wastewater reclamation, retail, agricultural, light manufacturing, wireless communications, and other service businesses.
ZTG-SE switches are equipped with GE's next-generation MX150 microprocessor panel, which controls the operation and indicates the status of the transfer switch's position and performance utilizing an LCD display with statistical event recording and basic metering as standard features.
Product Specifications:  ZTG-SE Brochure (pdf)