Joey Davis
Project Manager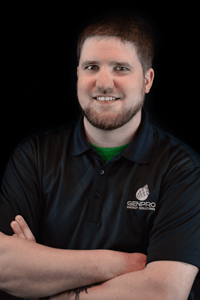 Joey started his career with GenPro in January 2013 as an apprentice electrician.  He had earned his bachelor's degree in Industrial Technology, specializing in construction management from Black Hills State University.  Part of the program focused on alternative or renewable energy sources, which is what peaked his interest with GenPro.  Within three years of working for GenPro Joey advanced to a Journeyman electrician in 2016. In May of 2019 Joey became an Electrical Contractor.
His dedication, work ethic and expertise in the field of renewable energies earned him the position of Project Manager in 2018.  Joey's role as project manager is vital to the overall health of every project GenPro completes.  He is responsible for scheduling, internal and external communication, engineering coordination as well and many other unmentioned roles and functions.
Outside of work his favorite activities include spending the weekends at the lakes within the Black Hills.  He also enjoys four-wheeling, boating, camping and snowboarding.