Paul Weiler
Journeyman electrician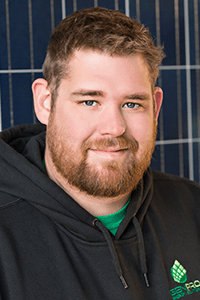 Paul was born in Conrad Montana. He previously worked as a satellite technician for White Communications. He has now been at GenPro for 1.5 years doing electrical work including wiring, LED retrofits, solar projects, and pretty much anything that needs to get done.  In May of 2019 Paul became a Journeyman Electrician.
Just ask him and he's your man. He finds that the most exciting part of his job is troubleshooting problems. He likes the diversity of projects and the challenges that come with him. Whats life without a challenge? He greatly looks forward to the future of alternative energies. He believes that alternative energies are the future.
Paul has two kids and a corgi/blue heeler. He enjoys hiking and camping in the Black Hills, he also builds arcade machines, fixes computers and plays with his kids in his spare time. His secret talent is that he is one heck of a dart player.