Zenith ZBTS Bypass Isolation Series ATS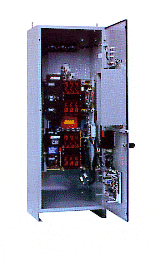 In critical applications such as hospitals and airports, power cannot be interrupted for maintenance of automatic transfer switches. In such circumstances, a bypass-isolation switch is essential and is often required by code.
Consisting of two major modules, the Automatic Transfer and the Bypass Isolation Switch, the ZBTS Series incorporates the rugged construction of all our ZTS Series switches with a quick make/quick break manual load transfer handle and our control/interlock system, which consists of both mechanical and electrical interlocks.
The bypass uses normal failure sensing and a time delay to start the engine automatically if a failure occurs when the ATS has been removed for service, which can be done without disturbing the load.
ZBTS-D Bypass Isolation Delayed Transition ATS
ZBTS-CT Closed Transition Bypass Isolation ATS
Product Specifications:  Brochure for ZBTS Series (pdf)