Zenith ZBTS-D Bypass Isolation Delayed Transition Series ATS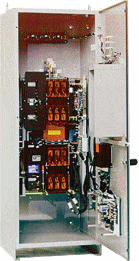 The ZBTS-D Series incorporates the features of the ZBTS Bypass-Isolation Switch with those of the ZTSD unit for transfer of large motor loads, transformers, uninterruptible power supplies (UPS) systems, or load shedding to a neutral "off" position.
In critical systems such as those of hospitals and airports, power cannot be interrupted for maintenance and testing of automatic transfer switches (ATSs).
In such circumstances, a bypass-isolation switch is essential and often required by code. The GE Zenith Controls ZBTSD Series Delayed Transition Transfer/Bypass-Isolation Switch meets requirements for inspection and/or maintenance of the delayed transition transfer switch without power interruption.
The ZBTS-D Series incorporates the rugged construction of all our ZTS Series switches with a quick-make/quick-break manual load transfer handle and our control/interlock system, consisting of both mechanical and electrical interlocks.
The bypass uses normal failure sensing and a time delay to start the engine automatically if a failure occurs when the ATS has been removed for service.
Features and Benefits
Load is not interrupted during bypass operation
High close-in and withstand capability
Temperature rise test per UL 1008 conducted after overload and endurance tests in unventilated enclosure – exceeds UL requirements
Available in ZBTS (utility-generator), ZBTSU (utility-utility), ZBTSG(generator-generator) and ZBTSM (manual) configurations; models include standard, delayed, and closed transition
Transfer switch is located on a draw-out mechanism to facilitate maintenance
Emergency power systems can be electrically tested without disturbing the load
Power cables do not have to be disconnected to remove transfer switch
Bypass to any available source with transfer switch removed
Engine start circuit maintained during bypass operation; normal power failure causes engine start contact closure even with the ATS removed
Diagnostic lights and detailed instructions for simple step-by-step operation
Mechanical and electrical interlocks ensure proper sequence of operation
Bypass switch contacts are closed only during the bypass-isolation operation
Silver-plated copper bus interconnection of the transfer and bypass switches on all sizes
Product Scope
Ratings 100 to 4000 amperes
2, 3 or 4 poles
Open type, NEMA 1, 3R, 4, 4X and 12
Available with ZTS, ZTSD and ZTSCT Series Transfer Switch
Bypass and transfer switch have identical ratings
Suitable for emergency and standby applications on all classes of load, 100% tungsten rated through 400 amps
UL 1008 listed at 480 VAC
CSA C22.2 No. 178 certified at 600 VAC
IEC 947-6-1 listed at 480 VAC
Product Specifications:  Brochure for ZBTS Series (pdf)