Zenith ZTG-D Delayed Transition Series Automatic Transfer Switch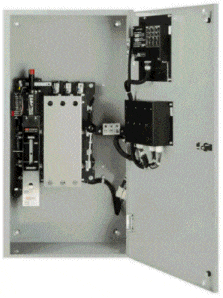 GE Zenith Controls ZTG-D Series switches are built for delayed transition applications that require the dependability and ease of operation found in a power contactor switch.
The GE Zenith delayed transition automatic transfer switch offers an adjustable time delay during transfer from one position to another.  This is primarily for transfer of large motor or inductive loads and allows these loads to re-energize after transfer with only normal inrush starting currents.
The GE Zenith ZTG-D Series automatic transfer switch incorporates all the important features of the standard GE Zenith ZTG Series in a unique design. The operation of the delayed transfer switch is totally independent of the synchronism of the power sources, eliminating the need for in-phase monitors or extensive motor disconnect control wiring between the transfer switch and motor control centers.
Product Specifications:  ZTG Series Brochure (pdf)