Zenith ZTS-D Delayed Transition Series ATS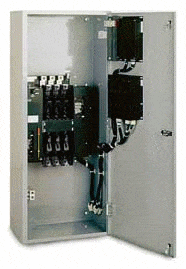 When large motors, uninterruptible power supply (UPS) systems and/or transformers make up the bulk of the load, delayed transition transfer switches offer ideal protection.
The GE Zenith ZTS-D Series provides an adjustable time delay in the centered "off" position.  This delay allows motors to coast down and transformers to decay, meaning inductive loads may be re-energized after transfer with only normal inrush starting currents.
These switches, which are strongly recommended by major UPS manufacturers, are ideal for pumping stations, sewage treatment plants, hospital X-ray equipment or whererever the load makes a delay desirable.
The ZTS-D Series incorporates all the important features of the standard ZTS Series in a unique design that includes specific operational properties.  The performance, operating capabilities, ratings, and UL listings all withstand current values and available options are identical to those of the ZTS Series.
Product Specifications:  ZTS-D Brochure (pdf)