Sports LED Solutions
Lights. Camera. Action.
With community LED lighting you can avoid light pollution with the precise definition that LED light can provide to your football field. LED lighting offers a consistent light level across the football playing field that ensures clear visibility of the ball, lines and players due to its daylight color temperature.
Safety of athletes is a major concern, ensure that your football field lights are bright enough to avoid injuries from shadows and glares. Football luminaires are best on high pole lights to ensure the quality of light necessary for the safety of the players.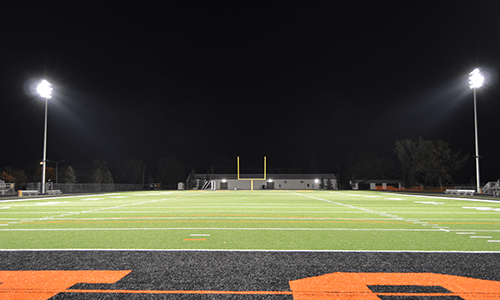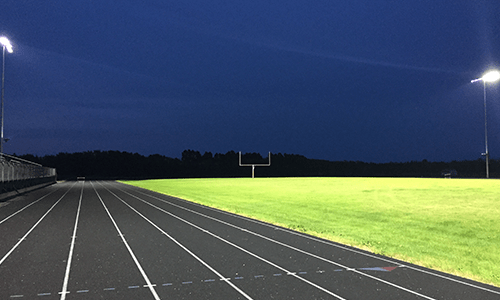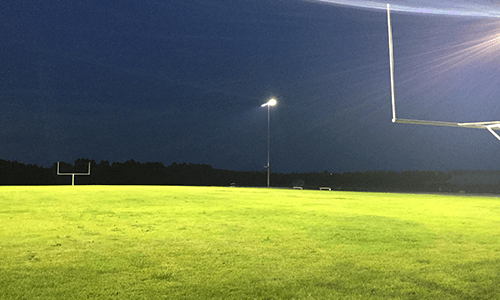 Benefits
Energy Efficiency: Reduces energy consumption by 63 percent when compared to typical 1500-watt metal halide equipment.
Light Precision: Customized optics minimize off-site spill light and glare to not disturb the natural surroundings.
Efficient Controls: Dimming capabilities conserve energy and adjust light power output as needed.
Maintenance: Eliminates maintenance costs with our 5, 10 or 25 year parts and labor warranty backed by a team of area technicians.
Request your FREE Energy Audit
Free Energy Audit
What is an audit?
One of our sales professionals will inspect the energy usage in your building.
How long does this take?
A typical audit should take no longer than a couple of hours in your business (depending on building size).
What do you need from me?
Access to your building and a recent energy bill.
What's the catch?
You have no obligation to us, we feel so confident in our ability to save your business's energy costs that you will be as excited as we are.
Interested in lighting your field with LED lights?
Sports LED Lighting Projects