PS7k2 CS-F20-5 Surface Centrifugal Solar Pump System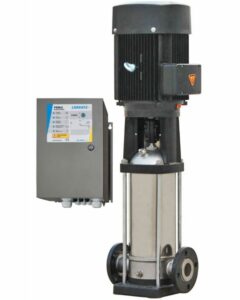 LORENTZ PSk-CS surface pumps are vertical multi-stage and single-stage pumps designed to efficiently deliver the highest volumes of water from a solar power source. PSk-CS surface pumps are typically used in irrigation projects and for wide area drinking water applications where they reliably meet the most demanding requirements, economically, without pollution and without a grid connection or diesel generator.
These highly efficient surface pumps can achieve flow rates of up to 2010 GPM (at low pressure) or up to a 296ft of head (at lower flow). Each system consists of a pump, motor and a controller. AC-power integration options are available. All components are carefully designed for use with direct solar connections. The modular concept allows for simple servicing and a lower cost of ownership.
Features
Engineered in Germany
Very strong ROI against diesel powered pumping
Long life expectancy and proven in service record
High quality non corrodible materials used
Designed for use in remote and harsh conditions
Solar direct connect with AC connection options
MPPT technology to maximise power use from PV modules
3-phase air cooled high efficiency motor
Data logger integrated into the controller with a display of key running data
Specifications
Head Pressure:

 

66 – 164 Ft. (29 – 71 PSI)

Flow Rate:

 

144 

(GPM peak)

Pump Type:

 

Surface Vertical Multistage
Features
Engineered in Germany
Very strong ROI against diesel powered pumping
Long life expectancy and proven in service record
High quality non corrodible materials used
Designed for use in remote and harsh conditions
Solar direct connect with AC connection options
MPPT technology to maximise power use from PV modules
3-phase air cooled high efficiency motor
Data logger integrated into the controller with a display of key running data
Specifications
Head Pressure:

 

66 – 164 Ft. (29 – 71 PSI)

Flow Rate:

 

144 

(GPM peak)

Pump Type:

 

Surface Vertical Multistage